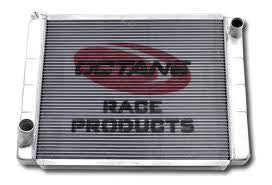 Octane Radiator
Designed for High Pressure Late Model and Modified cooling systems.
Fins with the Maximum louvers per fin for added heat dissipation
Stamped and Reinforced Aluminum tanks for rigidity and durability
High Capacity 1 inch Aluminum tubes for greater cooling carrying capacity - to bring out more BTU, have to have coolant in the tube in significant volume to have heat removed.
New solid design side channels and mounting flanges for maximum strength and the ability to mount anywhere.
All Welded Construction-The fins are welded to the tube, the to the header plate, the header plate is welded to the tanks and the filler neck is welded.
2 row tube construction means only 1 space between the tubes for maximum tube to fin contact.
A Billet All Aluminum Anodized Filler Neck for maximum
Heavy Beaded Hose connections stay sealed and won't crack.
Available in 19x24 Single Pass, 19x28 Single Pass, and 19x28 Double Pass.