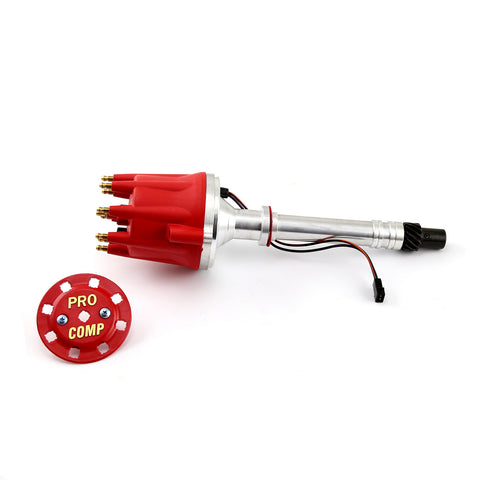 SBC MSD Style Distributor
These billet distributors are designed for the enthusiast that is serious about performance but needs the small cap size due to space considerations when installed. They are precision CNC machined from billet 6061-T6 aluminum to exacting tolerances. The spark plug type terminals offer secure wire attachment. Under the brass terminals of the cap and rotor is an extremely accurate magnetic pickup that never requires adjustment along with an easy to adjust mechanical advance mechanism. The heavy duty 1/2 steel shaft is guided in a long sintered bushing as well as a sealed ball bearing at the top to precisely locate the reluctor. This combination yields stable timing and spark delivery at any RPM.
Billet Housing:
Distributor housing machined from billet aluminum.  Computerised Numerical Controlled (CNC) mills and lathes are used to create each housing. This procedure produces a flawless, lightweight distributor housing that is accurate to within 0.001''.
Shaft and Ball Bearing Guide:
Uses a polished steel shaft that receives a QPQ, or Tuftride coating. This process produces a durable finish that reduces friction and resists corrosion. To accurately guide this shaft, a sealed ball bearing is located at the top of the housing. At the bottom of the housing, an extra long sintered bushing controls the shaft. This combination keeps the shaft spinning smooth and accurately throughout 10,000+ rpm.
Magnetic Pickup:
uses a high output magnetic pickup to trigger the ignition system. This pickup is completely maintenance free requiring no adjustment ever. The pickup is mounted to the base of the distributor housing and plugs directly into your Ignition Control. A trigger signal is created as a precision made reluctor (attached to the shaft) passes by. The reluctor has a ''paddle'' for each cylinder and when the paddle passes the pickup, a signal is created.
Adjustable Mechanical Advance:
One of the most important features of the distributor is the adjustable mechanical advance assembly. The advance assembly allows you to accurately modify the advance curve to match your specific application. To start with, the advance plate is stamped and machined from chrome moly, weight pins are then staked in and tig welded in place. This assembly, along with the weights, then receive a corrosion resistant QPQ coating.
---
We Also Recommend