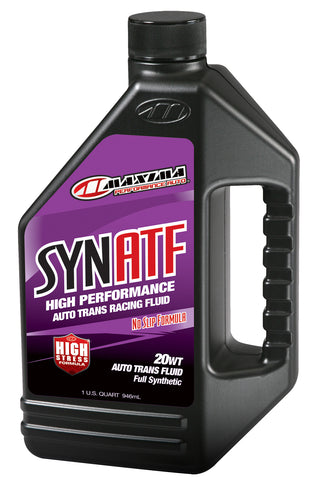 Synthetic ATF Bert/Brinn Fluid Quart
MAXIMA SYNTHETIC RACING ATF is specifically formulated to perform in automatic racing transmissions under high-torque, high-horsepower conditions. SYNTHETIC RACING ATF is a full synthetic formula with technologically advanced anti-wear and extreme pressure additives, protecting the transmission in high-stress environments. Advanced anti-foam agents minimize air entrapment in the oil and protect critical transmission components at higher speeds seen in racing conditions.
MAXIMA SYNTHETIC RACING ATF exhibits excellent wetting properties enabling increased heat transfer and lowering overall operating temperatures. Superior additive package is oxidative and thermally stable - inhibiting the formation of lacquer, varnish and harmful deposits - ensuring clean, trouble-free operation.
No slip formula offers positive shift engagement and reduces clutch drag. Special additives help to minimize clutch burn-in time, aiding in the overall reduction of operating temperatures. Ideal frictional properties help to eliminate wear, while providing smooth, positive shifts in high-stress, high-load environments.
Regenerative, synthetic polymers resists shearing, mechanical breakdown and viscosity loss of the oil. High viscosity index (VI)formula offers consistent film thickness and performance over greater operating temperatures.
---
We Also Recommend