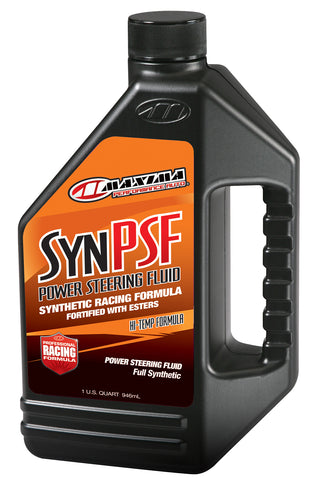 Synthetic Power Steering Fluid
MAXIMA Synthetic Power Steering Fluid (SYN PSF) is a high-performance oil engineered to perform under the severe stresses found in modern day racing power steering systems. Racing power steering systems operate under increased loads and elevated temperatures when compared to on-highway systems. Maxima SYN PSF uses technologically advanced additives to prevent wear, thermal breakdown and oxidation - offering unsurpassed protection to pumps, cylinders, valves and gears. Special conditioners keep seals and O-rings pliable under extreme conditions.
Maxima SYN PSF offers smooth, quiet, trouble-free operation. Full synthetic formula delivers consistent steering response and exhibits excellent flow at low temperatures. Lightweight formula reduces initial drag on pump avoiding power losses. High viscosity index fluid offers greater high-temp viscosity than many petroleum based fluids. Advanced ester based synthetics eliminate fading and boil over and exhibit exceptional antifoam characteristics in high-performance, high-temperature environments.
---
We Also Recommend