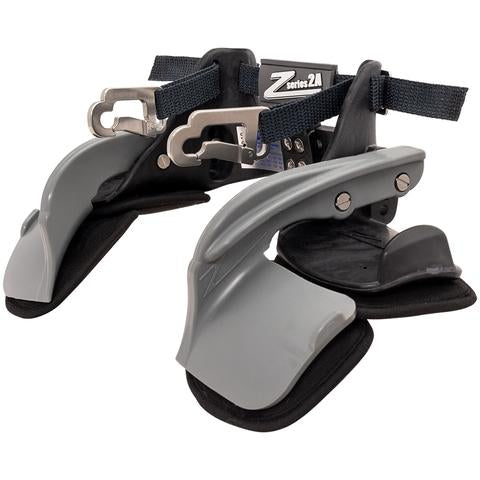 Z-Tech 2A Head and Neck Restraint
The new Series 2A has new features never seen before in the Head and Neck Restraint market.  These new Patent Pending Features include:
Advanced Axis Adjustment allows you to adjust shoulder width, arm angle and arm width. Fits different body shapes and sizes and adjusts to different race seats. 
Super Lightweight

 

at approximately 900 grams.
Extremely Comfortable

 

feels like you have nothing on.
Dual Compound Frame

 

Specialized Fiberglass Reinforced Nylon is used for the shoulder frame offering leading structural characteristics. Arms made with a Modified Alloy material give the device a dampening characteristic in a crash.  The two materials work together offering excellent performance.
Stainless Steel Hardware

 

screws and binary post built with high quality and strength to provide long lasting strength.
Kevlar Webbing Single Point Tether

 

connects helmet to restraint and offers good side to side motion during use.
02 Spring Clip Quick Connect

 

makes it even easier to disconnect the device from the helmet.
Belt Channel with Wings

 

accepts 2" or 3" belts.
Replaceable Padding

 

is easy to clean and/or replace for continued comfort.
Helmet Hardware

 

needed is included to connect to helmet.
SFI 38.1 Certified
---
We Also Recommend